Deb: Hi! Today we have an interview with new author Mary Jo Nickum. Welcome to The Bumpy Road, Mary. Would you tell us about your new book, Mom's Story; A Child Learns about MS?

Mary: Mom's Story; A Child Learns About MS tells the story of a young girl who sees her mother with some frightening health problems and learns she has MS but she will not die from it. This book is a compassionate, accessible and easy to understand account of symptoms, search for help, diagnosis and adaption to this heart-wrenching disease. Amy fears the worst, which is common when one is confronted by the unknown. Her best friend, Kayla, doesn't quite understand why Amy is so worried. Amy's older sister, Kelly is concerned and does her best to help, while older brother, Tony, tries to deny the whole situation. Information is the key to allaying much of her fear along with understanding from parents, adult friends and her older sister.

Deb: Amy's big brother, Tony, is in denial over learning his mother's diagnosis. Will he ever get over this?

Mary: Tony is in denial and he has difficulty accepting his mother's diagnosis. From the beginning you see him start to deny when his mother drops the plate of eggs, then his refusal to take part in the family's trip to diagnosis. He will need the help of his family to overcome this difficulty. He will find that the MS Society information will empower him to meet his friends' questions and comments with dignity.

Deb: Is Tony's denial common? Does he ever learn that Multiple Sclerosis is nothing to be ashamed of?

Mary: Tony is concerned how his friends would respond to the news of his mother's illness if they found out. Many people with MS and their family members' first inclination is to keep MS a secret. Concern about friends' reactions, long held stigmas, and, more importantly, employers' reactions and the possible job implications fuel this attempt at secrecy. Tony's reaction is normal but the parents must work with him through this issue now if he's ever to completely accept the diagnosis. They show signs at different levels of beginning to help him.

Deb: I was so happy to see Amy and her family jump in to learn about MS! Would all families do this?

Mary: I think all families will try to get as much information as they can early. Where they get that information is critical. The purpose of this book is to help families find current, accurate information about MS. There are many ways people choose to get information, much of it hearsay and the internet. The internet has valuable information if sought from reliable sites. The sites I've listed in the book are known reliable sources of information about MS. There may well be others, but I can't vouch for them.

Deb: I know that this is a children's book but would Mom's Story; A Child Learns About MS be good for anyone who wants to understand the basics of MS? I say the basics since, as a fellow MSer, I realize just what a complex disease it is.

Mary: Mom's Story; A Child Learns About MS would be a good introduction to MS for anyone who is newly diagnosed or has a friend or relative with the disease. The book is intended as a family resource. Therefore, it has information that adults may find useful, beyond what a child would use.

The complexity of the disease made this book for children a difficult undertaking. The most challenging task was to trim the discussion of symptoms, medical explanations, and categories of the disease to language and description that a child would understand.

Deb: Where can we purchase Mom's Story; A Child Learns About MS?

Mary: Mom's Story; A Child Learns About MS is available on

several websites including:

http://www.amazon.com/, http://www.barnesandnoble.com/, http://www.eastvalleywriters.com/

as

well as my own
website at:

http://www.marynickum.com/.
Deb: Thank you for joining us today, Mary. Mom's Story; A Child Learns About MS is a very informative book!
See my review for this book. Just click on the stack of books at the upper left of this blog to be taken to my review blog!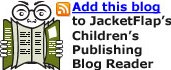 Visit Kids Stories Online - Children's stories, poems, artwork, etc.